Bus tour "Las Vegas - National Parks of the West - San Francisco"
Tour schedule
This tour is by special order only.
Itinerary
Las Vegas - San Francisco. National Parks: Grand Canyon, Colorado River Horseshoe Bend, Monument Valley, Antelope Canyon, Red Rock Monument, Yosemite National Park, Bryce Canyon, Zion Canyon, Death Valley.
States
During this tour we will visit 4 states - Nevada, Utah,Arizona and California.
Program (7 days/6 nights)
Day 1
Arrival to Las Vegas. Meeting at the airport and transfer to your hotel.
Day 2
Las Vegas. Las Vegas sightseeing tour, visiting the most popular casino/hotels and famous attractions. Included our exclusive workshop "Science of Winning" where you will learn all you need to know about casino gambling. In addition you may attend one of the shows at the renowned Cirque du Soleil* (tickets are extra.)
Day 3
Moving to Arizona. Stop at the historical Route 66, known also as the "Main Street of America". If you desire, watching a fascinating movie about Grand Canyon at the panoramic IMAX theater* (tickets are extra). During this trip you well enjoy captivating views of the Grand Canyon. Overnight stop at small town Page.
Day 4
Lake Powell - scenic overview point and panorama. Glen Canyon - East rim of the Grand Canyon. Walk to the scenic overview point "Colorado River Horseshoe Bend". Optional - walk with a local Indian guide to the Antelope Canyon* (paid extra). Monument Valley. Return to Page.
Day 5
Moving to Utah. Kanab City known as "Little Hollywood", place where well-known movie-western Mackenna's Gold was shot in 1969, along with more than 100 other movies. Red Rock Monument. National Park Bryce Canyon. Optional - walk along the Navajo Indian tribe trail (1.2 miles). National Park Zion. According to Navajo tribe's legend - Zion is home of Gods.
Day 6
Departure from Las Vegas to the National Park Death Valley. This valley is situated on the border of 2 states, Nevada and California, it captivates with beautiful landscapes of canyons, sand dunes, and its surreal cracked salty soil crust.
Day 7
National Park Mono Lake. National Park Yosemite. Majestic rocks of El Capitan and Half Dome. Yosemite Falls - 740 meters - the highest waterfall in North America. Giant sequoias of the Mariposa Grove. Arrival to San Francisco.
Included
Airport transfers
Hotel lodging: 3★ - 3.5★
Breakfasts
Russian-speaking tour guides
Excursion program
Transportation during the tour
Additional Costs
Additional Tours and events denoted with *
Doorman services
Tips to driver and tour guide
Visa, medical insurance (must have)
Additional hotel stays
Additional expenses on the USA territory

Las Vegas Facts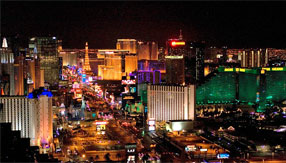 Las Vegas is known as the entertainment capital of the world. This city was built relatively recently - just about 100 year ago, in the beginning of the last century, in the central part of the Mojave desert, state of Nevada, USA.

The Golden Gate Hotel and Casino - the first of its breed - was open in Las Vegas in 1906.

"Las Vegas" in translation form Spanish means "the meadows" or "fertile valleys"; "Nevada" in Spanish means "snowfall" or "snow shower" which is quite strange for a place in a hot desert.

The biggest win in the whole history of gambling was recorded in Vegas at the Place Station Casino in 1998. Las Vegas' local won 27.5 million dollars.

More than 80% of the Las Vegas population are religious people...
San Francisco Facts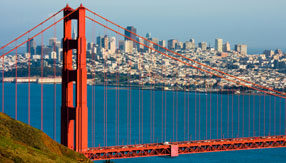 San Francisco is the cultural and financial center of the Northern California.

San Francisco's area is about 46.9 square miles, and its population is about 830 thousand people.

San Francisco is the most densely populated city in California (about 17,620 people per square mile) and is just a second most densely populated major city in the United States after New York City.

San Francisco (Spanish for "Saint Francis") was founded on June 29, 1776, when Spanish colonists established a fort at the Golden Gate and a mission named after Saint Francis.

The California "Gold Rush" of 1849 stimulated rapid growth of the city, making it the largest city on the West Coast at the time.

After 3/4 of the city was destroyed in 1906 by earthquake and fire, San Francisco was completely rebuilt in just 9 years...