One-day tours of California from San Francisco
In addition to the city tours of San Francisco, for the visitors of San Francisco area, we offer the following popular one-day tours of California in San Francisco vicinities:
Gold Rush (9 часов)
Calaveras Big Trees State Park (10 часов)
Besides listed here standard and popular excursions and tours around San Francisco area, we also offer unique, custom and individual tours in California developed and tailored specifically for your desires and interests.
Monterey Peninsula tour. Duration 9-10 hours.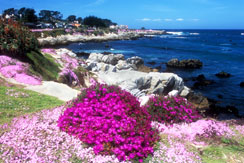 The trip to Monterey Peninsula goes on the California State Route 1 – the most beautiful auto highway of the Western USA.
During this tour you will see: the City of Monterey, a former capital of the Spanish California; Pacific Grove, known as the "Butterfly Town USA"; famous 17-miles Drive, a scenic road on the Monterey Peninsula; the most expensive in USA golf club Pebble Beach; City of Carmel, often called Carmel-by-the-Sea, whose mayor once was American famous actor Clint Eastwood; Park Point Lobos, astonishingly beautiful place on the Californian shore. Here you can observe sea lions and even whales during their migration season. You will also see a unique bird rookery.
Option: The tour can include esoteric vortex spot, the Mystery Spot. There, the laws of physics seem not be applied. Additional time – 2 hours. Tickets - $10 per person.
Napa and Sonoma Valley. Jack London Museum.
Petrified Forest. Wineries and Wine Tasting.
Duration 9-10 hours.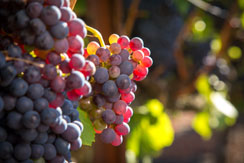 Travelling across the "wine country", California wine valleys, Napa and Sonoma, you will learn a lot about the art of making world famous wines and Champaign. You will also experience astonishing vistas of beautiful endless rows of the grape vines and architectural variety of winery estates.
This tour includes visiting several interesting wineries and wine tasting. You also visit a museum of the famous writer Jack London, and walk over his rancho where he spent his last years.
On your way from Sonoma to Napa Valley, you will visit unique Petrified Forest. Under closer look at the giant redwoods, you will be surprised to find out that these trees entirely consist of stone and learn what happened 3 million years during a volcanic eruption.
California Wines Tour. Duration 10 hours.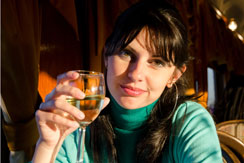 Amazingly beautiful landscape views and mild climate of Napa and Sonoma Valleys attract millions of visitors annually. During this "Californian wines" tour you will learn short but amazingly bright history of the Californian winemaking, its customs and differences from classical French, Italian, Spanish and other traditional wine making countries.
You will visit several best wineries and enjoy wine tasting. Depending on your preferences, you may be offered the following wineries: Domain Corneros Taittinger, Niebaum-Coppola, Opus One, Sterling, Buena Vista, Silver Oak, Castello di Amorosa, Sattui, Franciscan and others.
Travelling across Sonoma and Napa valleys, you will not only learn a lot about the art of grape growing and wine making, but also enjoy beautiful vistas of the road, endless grape vine hills, vineyards and winery estates. This tour includes visiting several interesting wineries and wine tasting (paid separately).
Tour to Silicon Valley. Duration 7-8 hours.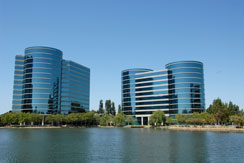 At this tour you will learn past and present of the most high-tech place on Earth – Silicon Valley. This is where Personal Computer was born. This is a where the world known high-tech companies are located. During this tour you will see:
- Stanford University – one of the most prestigious universities in the world that prepares and supplies high tech cadres for the Silicon Valley companies.
- Intel Museum, where on display are products of the world leader of the innovative technologies; visiting the famous garage where Silicon Valley had begun.
- Apple Corporate Store, where you can see and buy the latest technological novelties of the company.
- Tesla Showroom, where you can see and sit in the latest high-tech electrical car, designed and made in the Silicon Valley.
Russian California - Fort Ross. Duration 8 hours.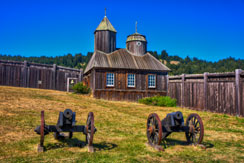 Fort Ross is a Historical Park of the state of California.
In 1812, 50 miles north from San Francisco the Russian-American Company established a Russian settlement and fort on the Northern California shore with a goal of fur trade, agriculture and food supply to Alaska. Russians surrounded the fort with stake fence and corner towers, and built houses from abundant there redwood trees. In 1825, they built wooden Holy Trinity Chapel - the main attraction of the Fort Ross, which was reconstructed a hundred years later, in 1925 by the Friends of the Fort Ross Historical Society.
In 1841, the Russian-American Company sold Fort Ross to a famous businessman during the California Gold Rush John Sutter. The original house of the last Russian commandant Rotchev is still remaining, and it has been designated as a National Historical treasure. All remaining structures are thoroughly reconstructed. Fort Ross is visited by many tourists and students; various Russian cultural events and folk concerts are held there.
Note: All tours are conducted in Russian language. We can also arrange tours in English, French, Spanish and Italian languages.

Around San-Francisco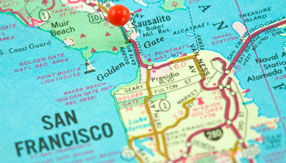 Our San Francisco tours won't leave you unimpressed, but you should not skip unique attractions in the area surrounding San Francisco. We offer a wide range of different tours and excursions all over California:

- On Monterey Peninsula you will see various peculiar rocks being washed by the waves of the Pacific Ocean; favorite places of elites - villas, beaches, golf clubs.

- There are more than 500 wineries in Napa and Sonoma Valleys, producing famous California wines, which are no second - and often superior - to the best French, Italian and Spanish wines. You will not only enjoy beautiful natural vistas and architecture of the wineries, but also will have an opportunity to taste those wines.

- Fans of Jack London can visit his "Moon Valley".

- In the Petrified Forest National Park, you will see Natural wonder - trees turned into their stone replicas.

- Silicon Valley, symbol of the highest manifestation of the human ingenuity, is visited by the tourists from all over the world.
Photo Gallery