Tours and Excursions in US Cities
Individual and Group City Tours
USA Travel offers a variety of standard and custom sightseeing tours and excursions in all cities of the USA to individual travelers and tourist groups. Not only will we show you the best attractions and vistas of every American city and their surrounding areas, we will tell you all about their history, architecture, culture, customs and way of life. You will visit the most beautiful and memorable places such as Golden Gate Bridge in San Francisco or US Capitol and Washington Memorial in Washington DC.
Depending on your interests, you may spend some time in their finest museums or art galleries, attend the theaters, shows or concerts, dine in their best restaurants or just spend some time wondering around. We will advise you on where to go, what to see and how to go around. We can arrange a bus tour, or a tour in a car or minivan. Our best local tour guides conduct all our city tours in Russian language.
The following list is a sample of city tours and sightseeing excursions that we offer to our clients:
Boston
Boston is a wonderful city. Due to its rich history and splendid architecture, Boston is the best place to start your immersion into American history and culture. Boston is one of the oldest cities in America. It was founded in 1630. All American history is closely connected to Boston. Here, in Boston, the American Revolution was born as well as started movement against slavery. In 1733, colonists threw into the waters of the Boston Bay cargo of tea from the British ship "Beaver" as protest against increasing taxation. This historical event was later dubbed as Boston Tea Party and became a starting point for the American Revolution. During the American Revolution, in Boston, George Washington took command of the Federal Army. Famous Path of Freedom goes directly though the center of the city connecting historical places of the American Revolution. Boston is the only city in the United States where fully represented all four considerable periods of the American architecture – Colonial, Federalist, Victorian, and contemporary.
Charles River serves as a natural border between Boston and Cambridge, city famous mostly for its two renowned universities – one of the oldest in the USA Harvard University and Massachusetts Technological Institute (MIT).
Harvard University was established in 1636, just 6 years after Boston was founded. For several decades, Harvard was the only university in colonial America. The university has been named after John Harvard who left all his fortune and vast library to this school that, for generations, shaped Boston as an intellectual capital of the United States.
Massachusetts Technological Institute (MIT) is famous for the record number of its alumnae who received the Nobel Prize in science. Today, MIT is the center of research in science and technology. Boston is holds the first place by the number of students. Besides Harvard and MIT, in Boston there are dozens of other colleges and universities. From Cambridge opens a beautiful panorama of Boston, which in summer is augmented by numerous sails of yachts in the river. During our Boston sightseeing tours we will show you the most beautiful and memorable places of Boston, the city you will never forget.

Los Angeles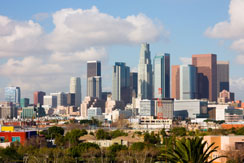 Los Angeles emerged in 1781 as a little village founded by 11 families of Spanish migrants. Today, it is a gigantic metropolis. It is often called "Great Empire" as it consists of more than 150 small cities independent administratively, by connected and united by infrastructure. That is why Beverly Hills, Santa Monica and Malibu have all the rights to call the city of Los Angeles their suburbs and vice versa.
The size of Great Empire or Great Los Angeles is such that the city accommodates convenient living and vacationing for people favoring different climates. The beauty of Los Angeles is that in any single day you can relax on a Pacific beach and ski in the mountains. From December till March, the closest from Hollywood Mountain-skiing resort is within hour and a half drive. A little further, within 4 hours drive, there is a World renown Mammoth Mountain Resort, which is open sometimes till July.
The Empire has its desert, rocks, rivers, ocean, pine groves, citrus and strawberry plantations, waves for surfing, riffs for scuba diving, canyons and vast fertile valleys. One thing is absent here – humidity. Many doctors believe Los Angeles is an ideal place for human living. With almost 0% humidity all year around any heat is easily bearable. Precipitations are rare, but dripping irrigation makes city very green and colorful. All the times there is something blooming. The plants are specifically selected not to cause allergies. Bougainvillaea, jacaranda, magnolia, aloe take turns to display their beautiful blooms in the bright blue background of skies. Los Angeles is the place where ocean of water meets ocean of skies.
Los Angeles is colorful in its ethnical landscape too. More than 200 different nationalities of people from around the world live in the Great Empire! In such a cultural mixture, it is difficult to find people with ideal English. That is why LA is one of the most tolerant cities. On its vast territory, there is enough space for Diasporas from multiple countries. All respect each other, keep friendship with each other. There is no ethnical tensions or animosity between different ethnical regions and within them. Crime rate is very low, you will not see drunks or scuffles; they are just not existent.
City residents are busy people; they have to care of each other – feed, transport, clean, supply - all 17.5 million of them. People here have realized that intellect rules the world, and they actively study in 190 Universities, do sports, other activities in 1,200 parks, go to numerous museums. Among them Getty Center, with its largest private artistic collection; Los Angeles County Museum of Art (LACMA), the largest art museum in the western United States; Paul Simon Museum with its huge Impressionists collection; The Huntington Library, Art Collections, and Botanical Gardens; Ronald Reagan Presidential Foundation and Library, and others. It is hardly possible to count exactly how many theaters are in Los Angeles. It is know though that the largest of them accommodates 18,000 spectators and it is not that easy to get a ticket there. The Los Angeles Music Center is not only one of the most admired by theatergoers, but it is also famous for its architectural style.
Plus, don't forget that it is Los Angeles where American movies are made. Sometimes you can run into a film crew during a city tour, but the best way to learn how movies are made is to visit Universal Studios or Warner Brother Studios, which are open for the public. It is not that uncommon to run into a movie star, renown film director, producer or famous model somewhere in a bar or nightclub. Besides, such an "accidental meeting" can be arranged.
Due to its diversity, one cannot be bored in Los Angeles. But neighboring cities and towns are also very picturesque and worthwhile visiting. Just one day is enough for Visiting Santa Barbara. It was restored after Earthquake to be a very cozy medieval Spanish town with pan tile rooftops, clay walls, wrought iron and woodworked facades of the buildings. Nearby are Cachuma lake, horse ranch, olive graves, vineyards with wineries and wine tasting rooms, Danish Village of Solvang. One day will take a trip to San Diego, a city situated right on the Mexican border. You can wander around the Old city – replica of fashionable Mexico; enjoy ocean view and beaches in La Jolla; visit submarines and sailboats; take a tour of a legendary aircraft carrier USS Midway; feel an atmosphere of XVIII century in the city center; unwind in the Balboa Park among magnificent pavilions, exotic cactuses and roses. You can enjoy the warmest Coronado Beach where the most famous scenes with Marilyn Monroe from the Some Like It Hot movie were shot. Not far from Los Angeles, there is Palm Springs city famous for its dozens resorts with hot springs.

Las Vegas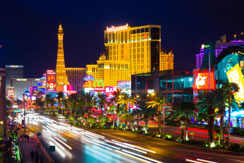 Las Vegas. The city that never sleeps. The sin city. The second chance city. All these and other names that reflect the nature of Las Vegas and attract millions of tourists with its lights. Why the appeal of Las Vegas is so great and what is behind the neon facade of casinos?
Many tourists while planning their trip to the West do not even suspect of the great opportunities that are available there. They know only about casinos and think that this is the only Las Vegas attraction. However, after the very first city tour they always realize that a couple of days that are in their schedule for this "oasis in the desert" will not be enough even for the brief introduction.
Certainly, the casinos are an important part of the business in Las Vegas, but they are not all Las Vegas. You will spend a lot of time just for the brief touring of the most well-known of them - Bellagio, Wynn, Encore, Venetian, Luxor, City Center and others. Each casino and hotel is unique and has something to surprise its guest. You will find green houses, exhibit halls, art galleries, architectural and historical places replicas.
To attract and keep the tourists hotel owners offer such a supreme service that can satisfy the most experienced traveler.
You will see an amazing design of the hotel, unmatched comfort, luxury, and variety of the rooms, plenty of high rating restaurants that offer any imaginable international cuisines, and exciting shopping for everyone - from the outlets of countless well-known brands to the world renounced couturier boutiques.
As a capital of entertainment industry, Las Vegas offers shows for every taste and budget. Legendary shows by Cirque du Soleil are always in high demand. For travelers on the budget there are plenty of shows to visit. Celine Dion, Elton John, Rod Stewart, Britney Spears, Beyoncé, and other world-class entertainers are frequent participants of the shows.
Las Vegas is also a hub for the tours to other destinations – to the Grand Canyon, to the Death Valley National Park, to the Valley of Fire State Park, to the Zion National Park, Bryce National Park, and many more.
And everyone knows Las Vegas as "World Capitol of Wedding"! You don't want to miss such a unique attractions as speed racing, a helicopter ride, a hot air balloon ride or a Fighter Pilot Experience. With all these possibilities, you need at least a week to enjoy your trip to Las Vegas. See you in Vegas!

New York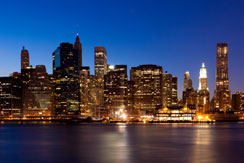 There is an anecdote that the largest trade deal in New York happened just before its birth: a Dutch man, Peter Minuit, bought from the native Indians the island of Manhattan for $24 and a barrel of rum.
Compared to such established in the world history cities as Rome, Paris, London or Moscow, New York is very young. It's just about 400 years old, but has grown fast and continue to grow. Here it is coming towards you, New York, as a surreal fortress with gigantic teeth of its skyscrapers, just like in a theatrical show, but very real.
One can re-phrase Aleksander Blok, a Russian famous lyrical poet: here, everybody feverously craves to live, to immortalize the best, and make dreams come true… Any many make it happen. New York took its Capital of the world status from Jerusalem, Athens and Rome. All paths lead to this city, which never sleeps. The whole constellation of the most prominent people has been living here. Here, in New York, one can see pompous masterpieces of architecture of the Old Europe, side by side with ultramodern temples of commerce, art and politics. This city got a well-deserved glory of the world leader in fashion, music and art.
Just listing some famous names tells a lot even to those who has never been here: Wall Street, Metropolitan Opera, Broadway, Rockefeller Center, Central Park, United Nations… And there is something else. The most popular word here is word "only". Only in New York there is such a variety of the world cuisines, only in New York keep their gold stock 80 countries, only in New York the fate of its Majesty Dollar is determined, which influences development of the world economies. If you want to visit the pinnacle of the World – visit New York.

San Francisco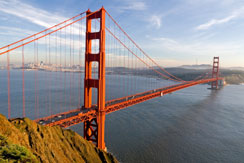 Due to its unique, mild climate, San Francisco is known as a city of eternal spring. "Politics is made in Washington, money - in New York, education - in Boston, and only in San Francisco one can just enjoy a cup of coffee." Every year, more than 18 million of tourists from all over the world visit San Francisco. What is the secret of such an attraction? Here is what people say. Sophia Loren: "it is the most romantic city"; Luis Armstrong: "everything exhales friendship here"; Jack London: "it is not just a city, it is a living being"; Robert Louis Stevenson: "it is here where the magic happens"...
While visiting San Francisco you will understand why the most used phrase of local tour guides is "you can see that only in San Francisco". And which is even more amazing that this is not just words, this is really truth. The Cupid's Span sculpture symbolizing love for the city; famous Lombard Street, the cockiest street in the world; the see lions' rookery practically in the center of the city; the only cable car in the world as city transportation; ice-cream called "Earthquake"; the largest on Earth man-made park built on the sand dunes, renowned Golden Gate Bridge, and on and on.
Starting it development during Gold Rush, having survived horror of the 1906 Earthquake, San Francisco became a place where United Nations and hippy movement were born. San Francisco is also is also a gateway to Silicon Valley, a technological Mecca of the US. After visiting San Francisco people realize why Nobel laureate William Saroyan once said: "If you're alive, you can't be bored in San Francisco. If you're not alive, San Francisco will bring you to life"; and "No city invites the heart to come to life as San Francisco does. Arrival in San Francisco is an experience in living".

Seattle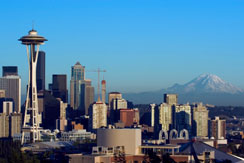 Fabulous Seattle! This city situated in the very North-West of the USA, in Washington state, has many capital titles: Emerald capital, Musical capital, Coffee capital, Crystal capital, Flower capital, Seafood capital; it is known as city of millionaires and billionaires; as center of high-tech; place of birth of American aviation...
Flowers In April, during the Tulips festival in Skagit Valley, often called American Holland, there is enormous up to the horizon colorful rainbow, a red-white-pink-yellow-blue carpet of flowers, made of dozens different varieties of tulips, daffodils, and irises. Nearby, there is also a Lavender capital, a city of Sequim where scarlet-violet Lavender fields captivate one's imagination and where in July and August photographers and tourists from around the world gather to admire its magical beauty. On a local flower market, one can find a kaleidoscope of local flowers all year round. What a variety of fragrances! Allspices, lilac, lily-of-the-valley, lavender...
Emerald Capital Seattle is recognized to be one of the greenest and the most ecologically clean cities in the world. Washington state's nickname is Evergreen State, and green is its flag's color. United Nations listed Its Olympic National Park among 100 major Natural Treasures and among UNESCO World Heritage. Here, grow astonishing rain forests of unparalleled beauty, amazing vegetation and magnificent, centuries old mosses. Seattle is called Emerald city because of abundance of surrounding water - picturesque Oceanic Bay with multiple scenic coves, lakes, rivers and manmade canals.
Crystal Thanks to renown glass blower and artist Dale Chihuly Seattle is known as Capital of Crystal. He was awarded title of the National Living Treasure. You can enjoy a huge collection of glass art of incomparable colors and shapes in the Chihuly Garden and Glass museum. Delight, elation, rapture, amazement, inspiration and even tears among emotions overwhelming people watching its oversized expositions and installations.
Music and Movies Seattle is home town of such famous musicians as Jimi Hendrix and Kurt Cobain. Here were born world know rock-groups Nirvanna, Perl Jam, Soundgarden, Queensryche, Wailers, Heart. Here buried late Hollywood stars Bruce Lee and his son Brandon Lee. Not far from Seattle, was created famous American television serial drama Twin Peaks by Mark Frost and David Lynch. Here was made now American classical movie Sleepless in Seattle.
Coffee Seattle consumes the most amount of coffee in the United States; and there is the most per capita coffee shops in Seattle. Here, in Seattle, the world's famous coffee chain, Starbucks was born which has its coffee shops in 62 countries. At the Pike Place Market, you can visit historic place – the very first coffee shop Starbucks giving birth to the coffee boom in the United States.
How many sides has this multidimensional city and how much is left outside of this short story! Join our city tours and you will hear, see and learn many new, surprising, inspiring, bright and colorful.

Washington DC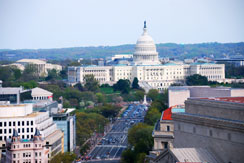 It might sound like a paradox, but Washington DC, being a capital of the USA is one of the least known to the tourists cities in America. The only city in the world built by a general plan more than 200 years ago and following that plan even today. This city was built by masons practically on an unoccupied, vacant land and embodied the main mason's idea of the divine rationality. That explains why no buildings in the city can be higher than the Capitol as the intellectual center of the nation. That is why this city built as a park symbolizing unity of Man and Nature. Most of the Government and Public buildings in the city are finished with marble and granite as embodiment of the Ancient beauty. That is why it spacious, cozy, green and very rational and convenient as no other city of the Western World.
Washington embraced aesthetical and intellectual achievements of many countries and many cultures. Its museums not only have the vastest in the world collections, but they are easily accessible. All Smithsonian museums (Art, Space, and History) open 7 days a week, they are closed only during Christmas; admission is free of charge. Many other museums can amaze with extravagance their collections even the most seasoned travelers. There are about 30 theaters in Washington, including National Opera (Kennedy Center with its six stages) directed in different times by such famous musicians as Placido Domingo and Mstislav Rostropovich. Add to this numerous quarters filled with shops, restaurants to any taste so it becomes obvious that you cannot just skip this wonderful city.