Tours and Expeditions to the US National Parks
From the notes of the USA Travel founder - Slava Kesler:
«A long time ago, while still in Moscow, after watching an American western Mackenna's Gold we were lively discussing a shocking quality of the Kodak film that the movie was shot on. What a fantastic, vivid colors, they cannot be real! 25 years later, already working as tour guide in the USA, when I got to the Glen Canyon and Monuments Valley for the first time, where that same move was made, I was shocked by the surrounding world of colors. Terracotta mountains, orange sand, may-green vegetation on the bright blue sky background. It turned out that Kodak did not add anything, they just captured the reality. Thus I had become an enthusiast of the US National Parks.
I have been to the country of Canyons many time, it's my job, and have seen the Canyons in the sun's light and in the light of night stars, in the sunrise and in the dusk, in summer and in winter, in the snow and lit by lightning's . During those trips, my tourists were photographers and seasoned travelers, materialists and mystics. But if you try to find a word describing all those people reaction to what they saw, it would be "shock". In an introductory film that tourists are shown at the Grand Canyon national park entry, the Spaniard, who were the first Europeans who got in that place, kneel go down to their knees when they first saw that Wonder of the World. One can understand that. Such an admiration for the Nature is how man worships the Creator.
It was noteworthy that the USA, even before its 100 anniversary, for the first time in the history of civilization, declared the necessity of the preservation of its Nature and its Congress established National Park number 1 – Yellowstone. Today, about 4% of the US territory is preserved by the status of National, State, District or City parks, historical and preservation zones and territories. Never in history of the USA their status was revoked or lowered, it was only increased and expanded. Even when very respected president Ronald Reagan asked Congress to privatize National Parks, the Congress refused. National Parks is a Holy Cow of the United States. It was rightfully said: "Creation of the National Parks was the Best American idea".
The following list is a sample of the US National Park where we offer tours to our clients:
Developing Itineraries to the US National Parks
Every year, more and more Russian-speaking tourists visit the US National Parks. Many parks have become staples, and are included in any USA tour. These are Grand Canyon, Yellowstone, Death Valley and others. Since our company is the most experienced in conducting individual and group Russian-speaking tours to the National parks of the USA, our recommendations of selecting tour itineraries are being the most professional and creative. There are few companies in the American Russian-language market of the tourist services offering tours to the National Parks, but among them, even fewer can do it at highly professional level. On your request, we will develop the most interesting and accommodating plan and itinerary for your visit to the National Parks.
Even if you go there on your own, we can help in developing your itinerary of different degree of detail. We can also provide a professional guide-driver to accompany you on all tour or any of its portion. To order such a service, please contact us early, at least 30 days before your trip. Our price is determined based on the trip distance, duration, group size, type of transportation and other factors.
Yellowstone National Park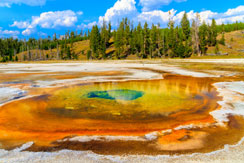 Yellowstone National Park spans over three states - Idaho, Wyoming and Montana. It is the very first National park in the USA established in 1872 by the US Congress. The huge Earth caldera, place where volcanic magma lies very close the Earth surface, causes numerous thermal springs, more than 10 thousand of them. Here, in the Yellowstone, you can find all possible types of hot springs, from the world's largest geyser, Old Faithful, to astoundingly beautiful Morning Glory. However, thermal springs are just a part of Natural Treasures collected there. It is not an accident that fascinating in its beauty canyon that is also called Grand Canyon of the Yellowstone, has a natural observation point called "Inspiration Point"; a cliff at the Yellowstone Falls waterfall view called "Artist Point". There is a rich wild life in the park: black and grizzly bears, Canadian and polar wolfs, coyotes, foxes, deer and elks, and, of course, buffalos… A huge heard of buffalos with a wreathing geyser steam in the background – looks like a picture from the phantom "Sannikov Land".

Grand Canyon National Park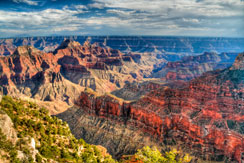 Lab for a scientist, pallet for an artist, inspiration for a poet, a unique object for a photographer – these are all terms that describe this grandiose phenomenon on Earth, - Grand Canyon. Grand Canyon National Park is one of the most visited Natural Wonders. Tectonic shifts and day-to-day diligence of Colorado River created enormous crack in the Earth surface, extending 420 km in length, 18 km in width and 1.5 km in depth. Bright canyon colors combined with blue Arizona sky create amazingly striking and unforgettable picture. Special care is taken of the Grand Canyon visitors. Everything is thought through to make the visit maximally comfortable. Multitude of the viewing areas allow to enjoy magnificent and almost surreal vistas from different perspectives. Many tourists having prepared for their visit to the Grand Canyon read a lot about it in books and on the Internet. But no matter how well read and well prepared you are, your reaction to what you actually see is ranges from "wow" to "shocked" to "bewildered".

Zion National Park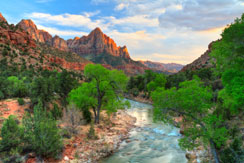 When Mormons pioneers saw this ravine, a Biblical devout rapture came over them. Wind, temperature change and precipitations created this Natural masterpiece. Small, but tenacious Virgin River fetched up this amazing canvas. It is not an accident that they gave the following whimsical names to the local mountains: Angels Landing, Great White Throne, Court of Patriarchs, West Temple, and Sacrificial Altar.
A special atmosphere of the Park makes you not only admire the surrounding vistas, but also muse about Infinity and Eternity. Being relatively small, Zion National Park is ideally suited for those who like walking excursions and tours. There is a plethora of routes to any taste and any physical condition. Here, in Zion National Park there is also the longest (more than a mile) in the Western USA tunnel built through the mountains' rock. Well thought-through park infrastructure makes its visit very comfortable and unforgettable.

Bryce Canyon National Park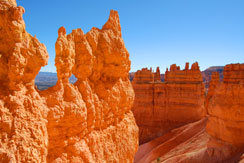 "... the wildest and the most wonderful scene that the eye of man ever beheld, in fact, it is one of the wonders of the world." - That is how T. C. Bailey, a government land surveyor, expressed his astonishment of the magical sight of the Bryce canyon. Hundreds of pinkish-orange candle-like rocks rising from the bottom of the canyon create surreal, phantasmagoric and unsurpassed picture. Local Indians have a legend explaining origins of these rocks by the wrath of the Supreme Power - Great Coyote - that petrified evil spirits into rocks - hoodoos.
During tours to different National Parks, I asked my tourists what park made the most impression on them. The answer was usually the same - Bryce. Lucky are those who are patient enough to wait until the sunset when rocks start glowing as if emanating amber light. To complete your unforgettable tour, there is a leisurely walk along the path of the Navaho Indian tribe. Geographically, Bryce Canyon is part of the Grand Circle of Canyons, which makes its visit quite logical and convenient.

Yosemite National Park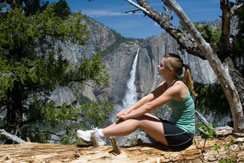 Yosemite National Park is the most visited National Park in USA. It is located in California on the high-altitude plateau of the on Sierra Nevada mountain chain. This park was a precursor of the whole system of the National Parks in USA. In 1864, 8 years before historical US Congress ruling of creating the first National Park, Yellowstone, President Abraham Lincoln signed a decree prohibiting any commercial activity on the Yosemite territory.
About 10 thousand years ago, during the end of the Great Ice Age, in the basaltic rocks of Sierra Nevada, ice carved this amazing ravine of astonishing beauty. People from around the world come here to admire this miracle of Nature. One of its cliffs even imprinted on a quarter coin. There are dozens of waterfalls in Yosemite Park including one of the world's tallest, Yosemite Fall, as well as Horsetail Fall, Bridalveil Fall, Sentinel Falls, Ribbon Fall and others.
Besides waterfalls, Yosemite is renowned for its Mariposa Grove – place where the largest trees on Earth grow - giant sequoias. Many of these relic colossi are more than 1000 years old...
Only after visiting Yosemite National Park, one can comprehend the phrase "When G-d was creating the Earth, in this place he exceeded himself".

Death Valley National Park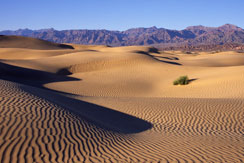 "I survived Death Valley" – a ribbon with these words is awarded to those few who managed to overcome a super marathon of 215 km, sometimes under the heat of 120F°.
Most of the Park territory is located in California, and just a small part in the state of Nevada. More than 1 million people visit Death Valley. This Park is home to annual week-long Burning Man Festival which happens in the end of August. Here is also located Zabriskie Point, famous for its panoramic view, which is also the name of a movie by Michelangelo Antonioni.
Despite its grim name, there is a rich flora and fauna in the Park. It is also a boon for photographers with its astonishingly attractive places such as Devil's Golf Course, Golden Canyon, Badwater basin (located 86 meters below sea level), and Mesquite sand dunes.

Monument Valley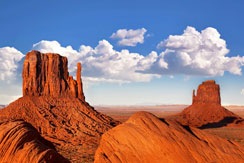 Monument Valley is located along the borderline of two states, Arizona and Utah, and includes Monument Valley Navajo Tribal Park of American Indians. This place has many awards and nominations including Top-100 Must-See Places in the World. Monument Valley is remarkably photogenic.
Time and erosion destroyed most of the top layers of the valley, but some places preserved their shape and strength resulting in quaint clusters of sandstone buttes. You can imagine their shape by names: Left-hand Mitten, Right-hand Mitten, Elephant, Kettle and so on. Numerous Hollywood Western movies were filmed in the Monument Valley, which made it an icon and a recognizable staple of the whole Colorado Plateau, where the most famous National Parks of the US South-West are located.

Grand Teton National Park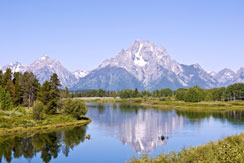 Once, secretary of State, James Baker inviting former Soviet Foreign Minister Eduard Shevardnadze asked where he would like to have a meeting. Shevardnadze asked for just one thing – some beautiful place. Indeed, the view of the Teton Range, which is part of the Rocky Mountains in Wyoming, is astonishing. You cannot take your eyes off it.
Shaped by the glaciers during the Ice Age, narrow-peaked rocks rise to up to 2 miles high. They surrounded by a beautiful "necklace" of lakes also created by glaciers of the ice age. Grand Teton National Park located directly next to Yellowstone National Park, and these two Parks with adjacent territories form one of the largest on Earth eco-systems with an area of more than 28,000 square miles. Naturally, there are lot of animals (many elks) and more than 300 bird species live there.

Antelope Canyon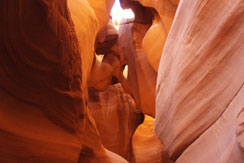 Antelope Canyon is located in the state of Arizona on the land of the American Indians of Navajo tribe. You can walk along this relatively small canyon without descending deep down or mountain climbing, you can just walk at the Earth surface level. However, while walking through this narrow crevice you have to maneuver in order to navigate between whimsical petrified waves gleaming with orange, white, red and even blue and purple colors. This is especially dramatic with a ray of sunshine. You will experience elation and astonishment from this incredible combination of vivid colors and twisted embossment created by wind and water flows.
The Navajo tribe call Antelope Canyon Tse bighanilini, which means "the place where water runs through rocks." In spring, water flows betwen these sandy rocks constantly changing their spiral curves. Every year, thousands of tourists visit this amazing canyon, forever keeping this natural wonder in their pictures and memories.