Yellowstone National Park Tour
5 days / 4 nights

$1,250 per person, in small group
Yellowstone Tour schedule in 2017 году
30 May - 3 June
26 - 30 September
Itinerary
Salt Lake City (Utah) - National Parks Yellowstone and Grand Teton.
States
During this tour we will visit 4 states - Utah, Montana, Idaho and Wyoming.
Tour Program
Day 1
Departure from Salt Lake City at 9 A.M. to Great Salt Lake. Antelope Island State Park), Bear Safari. Driving to the state of Montana to the border of the Yellowstone National Park.
Day 2
Sightseeing the first in the world National Park Yellowstone. You will see amazingly beautiful sceneries, natural hot springs (or geysers) that periodically spray fountains of water and steam into the air, boiling calderas, picturesque Lake Yellowstone, colorful thermal basins, buffalo herds, fascinating canyons and many other attractions.
Day 3
Continue touring the National Park Yellowstone – Grand Prismatic Spring, Old Faithful Spring. Driving to the Grand Teton National Park. You will enjoy panorama of the Teton Mountain Ridge, strikingly beautiful lakes surrounded by mountains and a boat tour. Visiting a cozy small mountain ski resort town Jackson.
Day 4
Mountain ski resort town Jackson Village. Driving along a ravine of the Logan Canyon. Breathtaking view of Bear Lake and mountains. Return to Salt Lake City.
Day 5
Salt Lake City sightseeing and tour of the Mormon religion center - Temple Square, Capitol, lunch at Mormon cafe. Departure home after 7 P.M.
Price
Double occupancy (2 people per room, 1 or 2 beds): $ 1,250 per person.
Single occupancy (one person per room, 1 bed): $ 1,545 per person.
3-4 people per room: $1,185 per person.
Price Includes
Hotel lodging: 2★ - 3★
Breakfasts
Russian-speaking tour guides
Excursion program
Transportation during the tour
Additional Costs
Additional Tours and events
Doorman services
Tips to driver and tour guide
Visa, medical insurance (must have)
Additional hotel stays
Additional expenses on the USA territory

All our tours include stops for photo sessions at the most beautiful scenic locations.

Yellowstone - Facts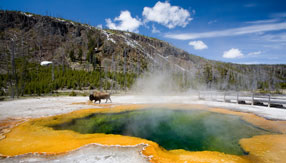 The first in the world National Park was established on March 1, 1872, by the US Congress decree.

It has an area of about 3,500 square miles and it spans through three states, Montana, Idaho and Wyoming.

The first white explorers entered the region were Lewis and Clark during their Expedition of 1805.

On October 26, 1976, UNESCO designated Yellowstone as an International Biosphere Reserve.

On September 8, 1978, United Nations designated Yellowstone as UN World Heritage Site.
Yellowstone - Fauna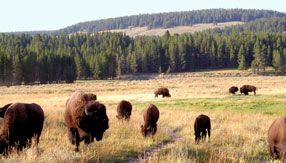 National Park Yellowstown is known for its exceptionally rich natural wild life. Here you can find plethora of different animals, from buffaloes (American bisons) to black bears, grizzly bears, elks, moose, different kinds of deer, lynx, wolfs, coyotes and others.

There are about 20 species of fish inhabit rivers and lakes of the Yellowstone National Park. Among them famous Yellowstone cutthroat trout, highly praised among anglers, and 6 species of reptiles and 4 species of amphibians.

More than 300 species of birds inhabit Yellowstone, almost half of which nest and breed there. There you can find such rare birds as American bald eagle, whooping crane, harlequin duck, common loon, osprey, peregrine falcon and the trumpeter swan...