About our company
Dear Sirs and Madams!
Our company is located in California, USA, and we specialize in conducting Russian speaking tours to individual and group travelers. We can help Russian-speaking tourists with all their needs related to travel in the USA, from developing unique, personalized itineraries, booking flights, hotels, show and concert tickets, providing airport transfers, guided tours, and sightseeing excursions in every US city, National Park, or any other US attraction. We employ only the best, knowledgeable, experienced and seasoned Russian-speaking tour guides in the USA. All our guides permanently reside in the USA, know this country from within, perfectly speak both, Russian and English languages and are eager to share their deep and vast knowledge of and passion for this great country with you.
Welcome to our tours in USA!
~ Slava Kesler, tours guide.

Our Guests
Vladimir Pozner with Slava Kesler in San Francisco (2016):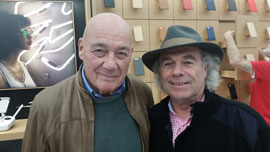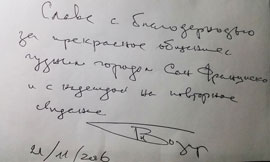 Testimonials
"For many years, we know Slava Kesler as the best and most experienced and knowledgeable Russian-speaking tour guide in the USA. Not once, he was our guide in California (San Francisco, Los Angeles) and Nevada (Las Vegas, Canyons). We always recommend him to our friends who are going to visit the United States."
~ Kirill and Sveta Ivanovs, Moscow, Russia
Mobile Apps

Las Vegas Audio Travel Guide. Hidden deep in Mojave Desert, Las Vegas attracts millions visitors a year...

San Francisco Audio Travel Guide. Discover San Francisco, a gem of the West Coast, with this pocket guide.

Find directions, popular attractions and insider tips with this San Francisco city guide.
New York Audio Travel Guide. Explore and discover New York City, the most international city in the world.

Boston Audio Travel Guide. Discover this inexhaustible, diverse and lively city of the American North East.

GIVE US A CALL
for all your questions on travel in the USA or booking a tour in the USA
415-793-6909

Discounts
For veterans
For seniors
For students
Write to Us
Send us an e-mail with any question, suggestion or offer regarding travel or tours in the USA: