Description of San Francisco Tours
"Money are made in New York,
Politics - in Washington,
Education - in Boston,
But only in San Francisco you can
relax and have a cup of coffee..."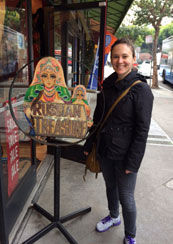 Our company is based in the San Francisco area.
No wonder our tours of San Francisco and its vicinities have been our signature tours. For our San Francisco visitors, we offer the following most popular sightseeing excursions and tours:
Besides listed here standard and popular excursions and tours of San Francisco, we also offer unique, custom and individual tours developed and tailored specifically for your desires and interests.
All our sightseeing excursions in San Francisco are conducted by the best local Russian-speaking tour guides, who live in San Francisco or its suburbs. They will be happy to share their vast knowledge of San Francisco people, customs, culture, history, architecture, as well as their love for this wonderful city.
Abbreviated tour of San Francisco. Duration - 4 hours.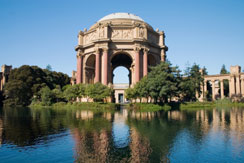 In just 4 hours you will get to know the highlights of San Francisco history and architecture, will see its main attractions, such as unique Golden Gate Bridge and Bay Bridge; the most crooked street in the world, Lombard street; central city square, Union Square; Little Italy, China Town (oldest in the USA), Russian Hill, a variety of skyscrapers of the financial center Downtown; Palace of Fine Arts, Treasury Island, famous Pier 39 with its Sea Lions, and many others.
Comprehensive tour of San Francisco. Duration - 6 hours.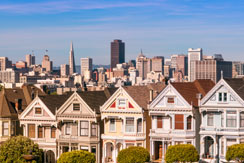 This 6-hour tour is our most popular tour of San Francisco which in addition to the 4-hour San Francsico tour, not only get to know San Francisco better, but also to experience a fantastic view of the city from the height of Twin Picks, past and present of the luxury Nob Hill neighborhood; historical Fairmont Hotel; Victorian San Francisco – you will see the fabled Seven Sisters at Alamo Square. You will be amazed by the modern architecture of the St. Mary's Cathedral sanctified by the Pope; and finally we will pass the Golden Gate Bridge and visit Sausalito – this "San Franciscan Riviera" on the Pacific Ocean where you will enjoy fabulous panorama of San Francisco.
Unique tour of San Francisco. Duration - 8 hours.
Our unique comprehensive 8-hour San Francisco tour presents the best opportunity to get to know this marvelous city admired by everyone who visited it once. This tour has become our trademark. Every year, up to 16 Million people visit San Francisco, the city of a matchless landscape and architecture beautifully situated on a peninsula surrounded by the Pacific Ocean and the San Fraqncisco Bay. Besides an interesting and fascinating story about the city's history, you will learn plethora of intriguing facts and legends.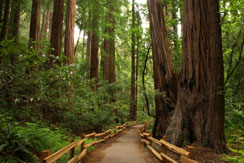 In addition to the attractions covered in the 6-hour tour of San Francisco, this tour includes visiting Muir Woods National Monument - a forest of the relic redwoods. This forest-park is located within just 12 miles north of San Francisco, in Marin County. The trip to Muir Woods offers an opportunity to see the unique redwood trees, some of them of more than 1000 years old and about 400 feet tall.
The following can be added to any San Francisco tour:
Visiting former Federal prison of the highest security – Alcatraz. This excursion will take about 2.5 hours. Tickets are $30 per person. Please order at least 3 weeks in advance.
Boat excursion over the San Francisco Bay. This trip takes about 2 hours. Tickets are $25 per person.
Note: Excursions are conducted in Russian language. We can also arrange tours in English, French, Spanish and Italian languages.

All our tours include stops for photo sessions at beautiful scenic locations.

San Francisco History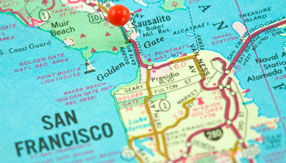 San Francisco has a short, but fascinating history, full of adventures and legends that found their way into many creations of art and literature.


It was San Francisco where in 1848 started the legendary Gold Rush that attracted thousands of energetic adventure seekers and that jump-started development of the city of San Francisco and the whole state of California.
Architecture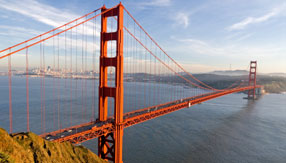 Prominent architects such as Brown, Pereira, Yamasaki, Wright, Maybeck, Howard and others created an unforgettable ensemble that turns every San Francisco tour into a captivating journey into the world of architecture.


And of course, the renowned San Francisco staples that make it the most recognizable city in the world: the Victorian houses, the Transamerica Pyramid building - the tallest skyscraper in San Francisco, the cable car, China Town, the Palace of Fine Arts and the famous Golden Gate Bridge...
Listen to this song by Vladimir Goldfine - our Russian-speaking San Franciscan - as you virtually ride along the streets and enjoy the vistas of our beloved city of San Francisco.